SANDRA MILLER ART FLAGS
Shop my ART FLAG STORE below .   
My ZAZZLE BOUTIQUE is a separate store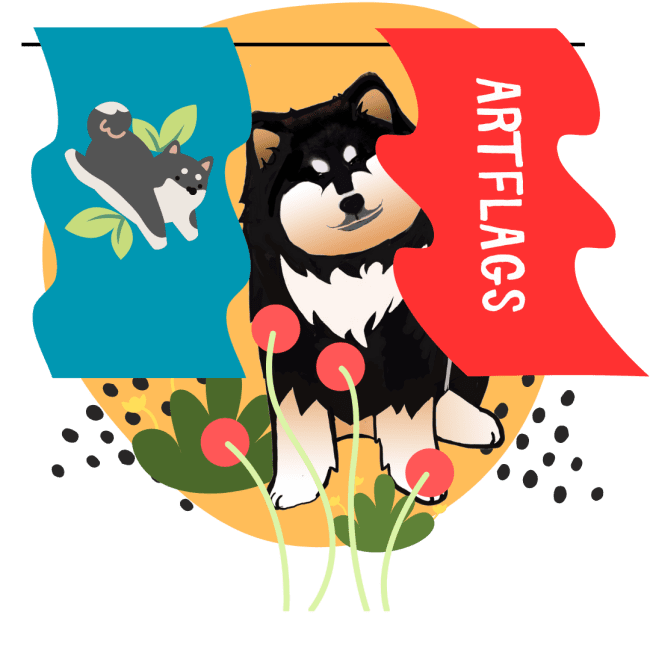 SONGMAO THE CHOW Art Flags in 2 sizes
00022
Product Details
BE SURE TO READ THE ENTIRE LISTING. BOTH SIZES ARE PICTURED ABOVE:
Because these beautiful works of art are printed on both sides of the flag, the possibilities are endless. In the garden they look beautiful hung from the house , garage, a post, an arbor or also as a room divider or shade cloth for your patio or RV. My dog show friends I'm sure will innovate many ideas for these including kennel, grooming tent and show van/rv. And what a stunning prize for dog clubs to offer for the shows or raffles.
_____________________________________________________
ABOUT THIS ARTWORK -
.I would like to introduce you to my most recent painting I've entitled 'SONGMAO'. Which is the name the Chinese use for chows in their homeland My inspiration was a classic and lovely chow I personally adore named Barkley,owned by Layla Loveless. In the Year of the Dog, Layla and I gave a breed presentation at the Portland Oregon Chinese garden so this artwork is especially close to the heart I hope you love SONGMAO as much as I did creating it This artwork is copyright 2020 SANDRA MILLER
_____________________________________________________

Choose from 2 sizes:
THE HOUSE FLAG :measures 28" x 40" and fits a standard flag pole (not included) It also looks amazing on a curtain rod in a window since the design is visible from both sides!
THE GARDEN FLAG measures 12.5" x 18" and fits a variety of iron garden flags display stands (not included) available at most garden centers and also many choices online.
NOTE: FLAG POLES AND GARDEN FLAG STANDS NOT INCLUDED however are very inexpensive online. I will give you some resources where to find them when you purchase your flag.
________________________________________________________
Artwork by yours truly, Sandra Miller, is featured on both sides of the flag. Vivid colors printed in the USA, on a poly/cotton blend outdoor fabric..the back side is printed in reverse.
Because these flags are printed to order, expect delivery in about 7-10 days in USA
Save this product for later