SANDRA MILLER ART FLAGS
Shop my ART FLAG STORE below .   
My ZAZZLE BOUTIQUE is a separate store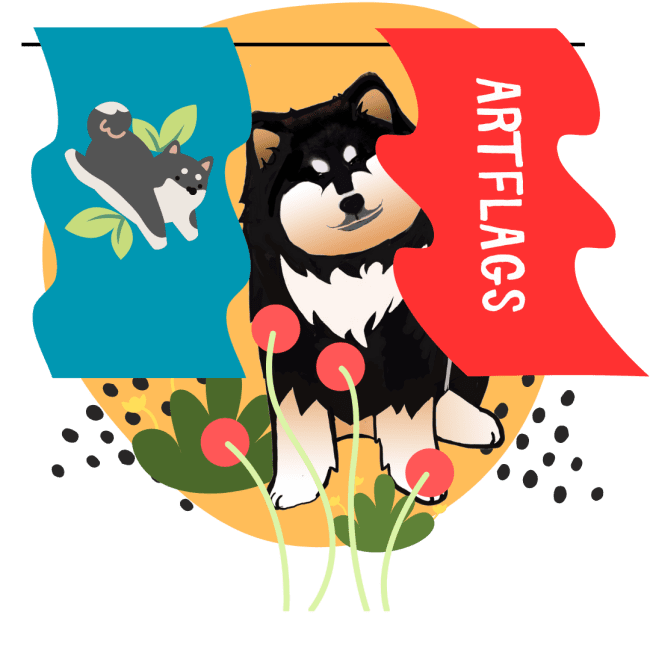 FOREVER YOUNG Chow Puppy Art Flags in 2 sizes
00052
Product Details
BE SURE TO READ THE ENTIRE LISTING. BOTH SIZES ARE PICTURED ABOVE:
Because these beautiful works of art are printed on both sides of the flag, the possibilities are endless. In the garden they look beautiful hung from the house , garage, a post, an arbor or also as a room divider or shade cloth for your patio or RV. My dog show friends I'm sure will innovate many ideas for these including kennel, grooming tent and show van/rv. And what a stunning prize for dog clubs to offer for the shows or raffles.
_____________________________________________________
ABOUT THIS ARTWORK - FOREVER YOUNG.....Some of you may recognize this handsome puppy from recent photos I took on our puppy play dates with a friends chowdren ,now named Winston and Austin.
Winston who is now living in his new loving home, was my model for this batik style painting. The title comes from many places in my heart including what an old soul I felt this young puppy is and how he reminded me in that way of our Onni who we had just lost
These puppies helped get us through a very hard time. I will always treasure how new life and friends brings healing and joy back into a very broken heart
_____________________________________________________


Choose from 2 sizes:
THE HOUSE FLAG :measures 28" x 40" and fits a standard flag pole (not included) It also looks amazing on a curtain rod in a window since the design is visible from both sides!
THE GARDEN FLAG measures 12.5" x 18" and fits a variety of iron garden flags display stands (not included) available at most garden centers and also many choices online.
NOTE: FLAG POLES AND GARDEN FLAG STANDS NOT INCLUDED however are very inexpensive online. I will give you some resources where to find them when you purchase your flag.
________________________________________________________
Artwork by yours truly, Sandra Miller, is featured on both sides of the flag. Vivid colors printed in the USA, on a poly/cotton blend outdoor fabric..the back side is printed in reverse.
Because these flags are printed to order, expect delivery in about 7-10 days in USA
Save this product for later