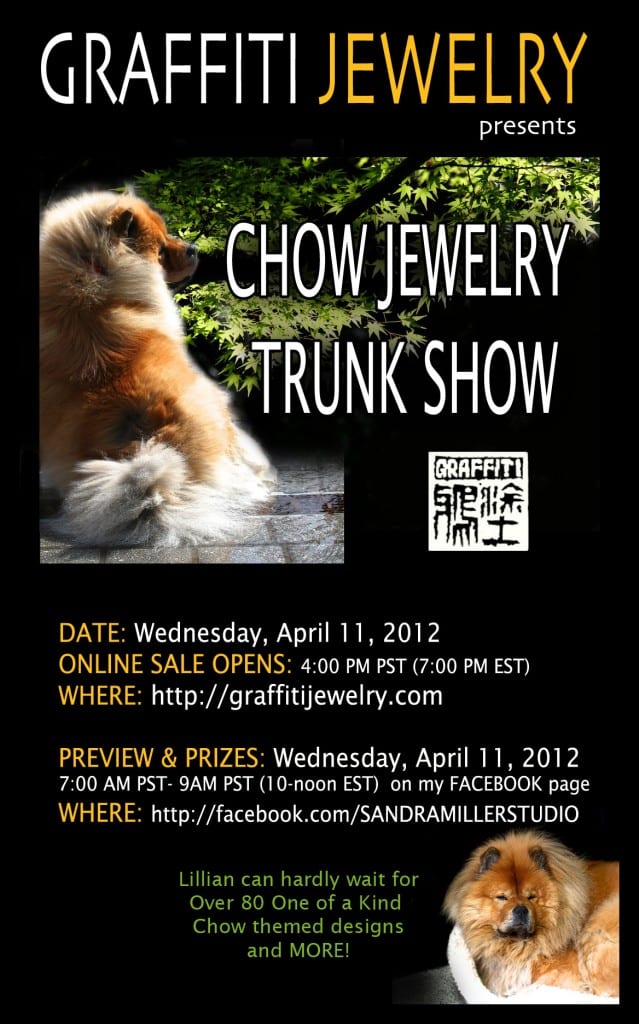 Note the show times above and that they are at two separate locations
The PREVIEW link will also be posted at GRAFFITI JEWELRY just in case you are unable to view it at Facebook. I did a lot of fun new things this year including putting measurements on all of the preview photos and VIDEO descriptions on my SIGNATURE pieces.
The videos really help bring each item to life and will hopefully give viewers a "tactile" feast for the eyes . I want to make this Trunk Show feel as if you were at live event where you can touch and hold the jewelry. Pour your own wine, tea or coffe and you will be set!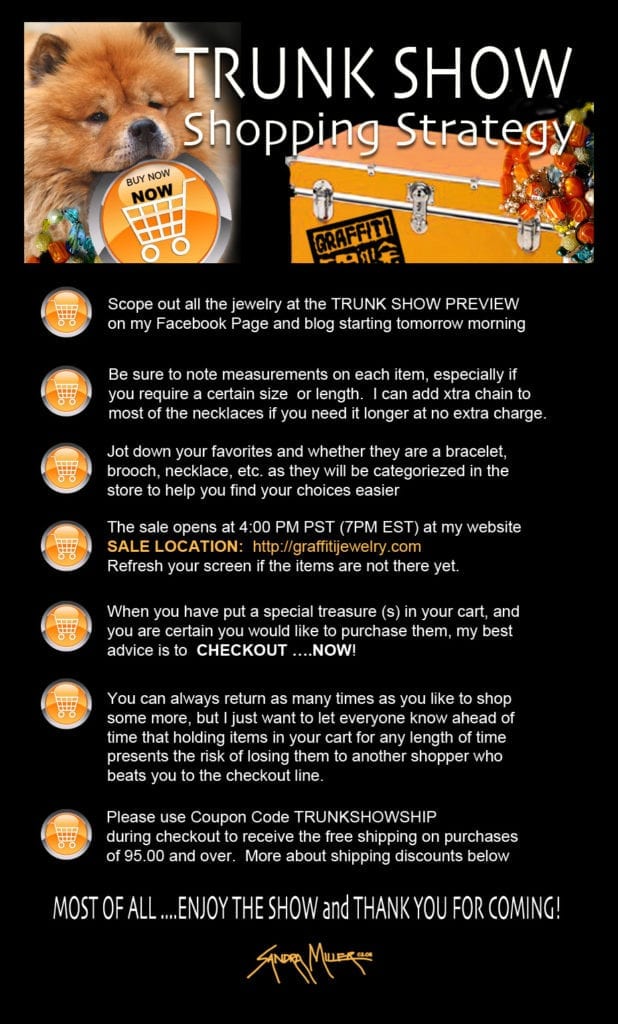 HOW TO SHOP THE TRUNK SHOW!
The most challenging part of planning an online event featuring of ONE OF A KIND artwork, is the usual fast purchasing pace we have experienced at my past Trunk Shows. In every cart system I've used, the same rules apply….the first person who goes through checkout with a given item ……gets the goods.
———————————————————————–
For this reason, my best advice ….when you have put a special treasure (s) in your cart, and you are certain you would like to purchase them, is CHECKOUT ….NOW!
You can always return as many times as you like to shop some more, but I just want to let everyone know ahead of time that holding items in your cart for any length of time presents the risk of losing them to another shopper who beats you to the checkout line.
———————————————————————–
SHIPPING DISCOUNT SPECIAL
To help offset any multiple checkout/shipping fees, here is my solution.
If your COMBINED PURCHASES from one or more items (or multiple trips through the checkout on the show day) totals 95.00 USD or over, you will receive FREE PRIORITY MAIL SHIPPING in the U.S. In the event you overpay for shipping (US or Foreign), I will refund the difference to your Paypal or Amazon Payments account right away.
Please use Coupon Code TRUNKSHOWSHIP during checkout
to receive the free shipping on 95.00 and over, total purchases
FOREIGN PURCHASES are not eligible for Free Shipping coupon however…….. I will send a special little Chow jewelry treasure as a gift, in lieu of the Shipping Discount.
Thank you in advance for understanding, and above all have fun! I'm so excited Steve is ready to put me in the kennel for a while to cool down!!
See you Wednesday at on Facebook from 7-9 AM PST for the PREVIEW AND FB CHAT