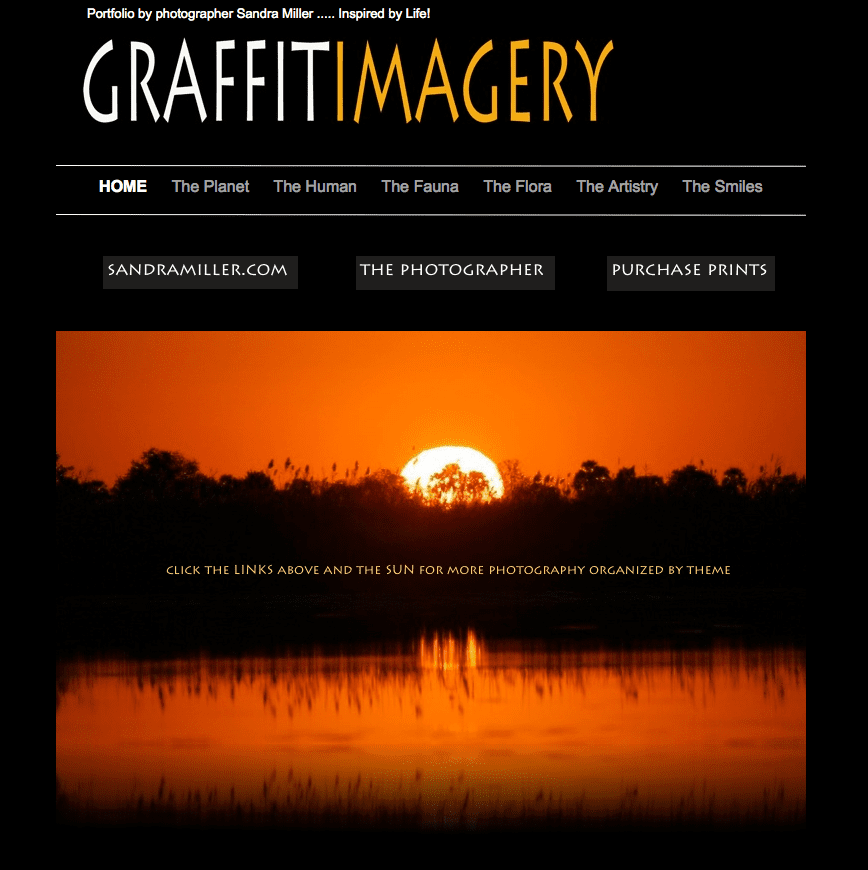 Oh my goodness it's been a busy one around here these days!! The garden has me hopping 24/7 and believe it or not, I even got some glass work into the mix.  Some adorable floral "vase" pendants will be showing up this week on the blog!!!
Above you see a screenshot of the homepage to my new photography portfolio site for GRAFFITIMAGERY.  This website has been my pet project for the past month and I am just now getting the finishing touches put on it.
CLICK HERE TO ENTER THE GRAFFITIMAGERY PHOTO PORTFOLIO WEBSITE
If you click on any of the links next to HOME at the top of the page you will see some of my favorite photography subjects organized by THEME. These themes all have slideshows which use a little grey bar (not visible on the screenshot below) just above the orange arrow , to slide back and forth to view the images as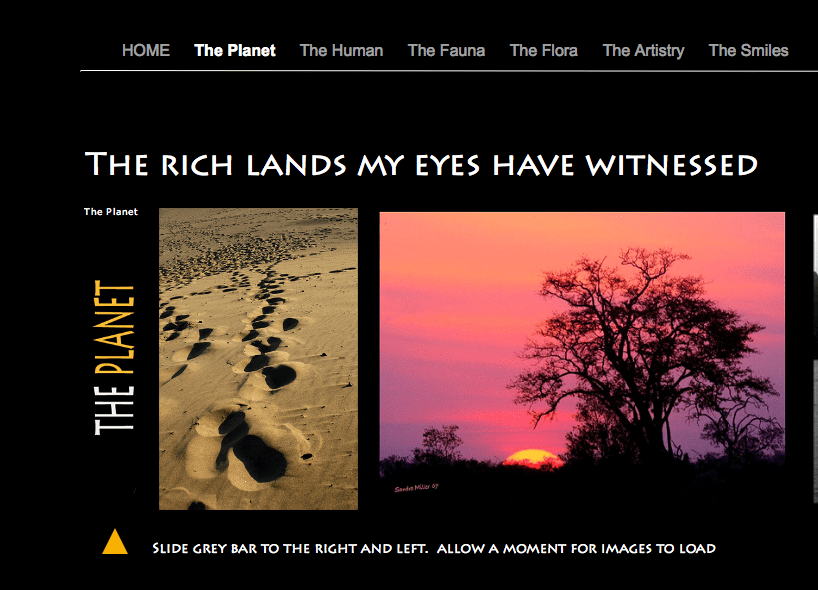 If you click the SUN in the homepage sunset image once you get there you will see a more extensive list of photo categories which is a page I am still working on.  All the categories in the right column on that page in CAPS/ORANGE are pretty much ready to enjoy.
The site is Flash based and if your computer is extremely slow, you can find the link to all the albums at the bottom of THIS PAGE which load in a a more conventional manner….but be sure to give the site a try first.  I tried to make sure things will load as fast as possible for most compter commections
————————————————————————————————————-
I just now came in the house from an extremely successful video shoot of the new arrivals to my garden!!!! It's called INCREDIBLE PATIENCE and a glass of wine to wait for baby birds and their parents to wander into the picture.  I scored bigtime with mom and dad chickadee feeding their brood, as well as mama robin shoving worms down her noisy fledgling's beak!!!
CLICK THE ARROW ON THE VIDEO BELOW TO VIEW THE GARDEN TODAY…THERE IS AUDIO AS WELL
You will notice a pause after the robins but the video continues to show you my yummy rose and clematis
Baby Robin and his mom and Chickadee pair feeding babies from Sandra Miller on Vimeo.
Above is a Peony that reminds me of a water lily
Above, my "Impressiont" climbing rose in full bloom!
HAVE A GREAT WEEK AND A FANTASTIC JUNE MY FRIENDS!!
With any luck my next video will be the chickadee chicks leaving the nest!