You know how sometimes the strangest of circumstances bring together a" light bulb moment" of inspiration…well today I had one of those as I was searching for a recipe.  We go  out for Dimsum a couple of times a month and one of my favorite sweet treats is so NOT Chinese but a wonderful balance to the savory tidbits we eat.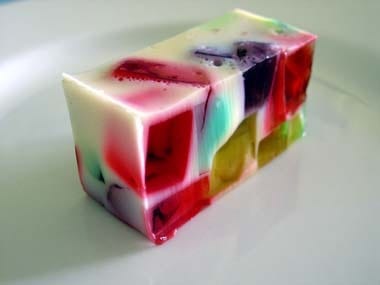 ABOVE IS PICTURED "BROKEN GLASS JELLO"
The Dim Sum version is usually a colorful strata of layers in orange, pink, green, red and white gelatin…all different flavors and cut into 1″ or so cubes…piled into a parfait dish and topped with a paper umbrella.  It is the same in all dimsumterias we have visited worldwide!
As I was searching for a recipe today (trying to identify the white part)  I ran into this recipe and image on
ONO KINDE GRINDZ blog  and immediately a series of fused glass pendants popped into my head!!! I am heading to the kiln now to work on a prototype and hopefully will have the start of something to show you tomorrow!!  Here's the recipe for Broken Glass Jello!!
Broken Glass JELL-O®
We had another pot luck at the office, so this time, instead of the hot crab dip, I decided that I would surprise everyone and make my broken glass JELL-O®. The girls at the office really like this because it's naturally low in fat. I like it because it's a cool, refreshing snack item that can be eaten at any time.
This dessert is not hard to make, but it is very time consuming. Here's the recipe and I hope you enjoy it.
Broken Glass JELL-O®
4 3-ounce boxes of JELL-O® brand gelatin*
1 12-ounce can of evaporated milk**
4 envelopes unflavored gelatin
*You may use any flavor of JELL-O® that you want. Here I used one box each of grape, strawberry, lime and lemon.
**Instead of evaporated milk, you may substitute the following:
1 can of condensed milk, plus 1 can water, or
1 cup of heavy whipping cream.
In separate bowls, dissolve 1 box of JELL-O® in one cup of boiling water. Pour into an eight inch square dish or pan. Chill until set, approximately 3 hours.
Once set, cube JELL-O® and mix in a 13″ x 9″ baking pan and set aside (in the refrigerator).
In a separate bowl, combine four envelopes unflavored gelatin with one cup boiling water. Let dissolve completely, about 5 minutes. Strain and combine with one can of evaporated milk. Set aside to cool.
When milk mixture is cool, pour into 13″ x 9″ containing cubed JELL-O® and mix carefully until well combined. Chill until set, about 4 hours.
**NOTE**
If you are using sweetened condensed milk, combine with one can of warm water prior to adding to gelatin mixture.
If you are using heavy whipping cream, you may want to dilute it with one cup of warm water.
Once set, cut into desired shape and serve!