Oh what a treat!! Just a few minutes ago I was sitting at my new computer station in front of the picture window in the studio and all of a sudden the snow started coming down softly like in a Xmas globe
My first hint  of the white stuff coming down wasn't the snow itself, but seeing Meg out of the corner of my eye racing around the yard by herself ….the happiest feet I have seen on her in  years!!
Then I let Lillian out to play and her and Meg ran and ran and had me laughing so hard I could hardly take photos!  I'm not sure Lillian has EVER seen snow until now.  You should see Meg right now as I write…..snoring and sleeping like a baby at my feet!  Wore her little self out!
This is something to see.  My Abutilon is in full bloom.  The hummingbirds come to it daily for nectar still as well as my feeder to supplement their diet.  Ah hah..just caught him through the studio window!! Looks like he's at the Christmas punch bowl!!
Seeing snow behind the bloom is amazing.  I am looking now and there is a lot more accumulation and the light is better.  I need to go out and get more pix of the flowering shrubs.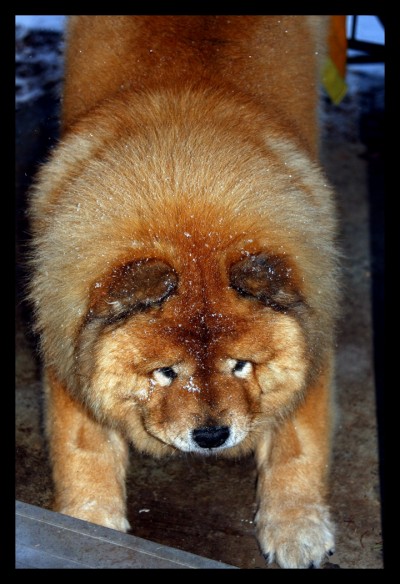 Here's Meg at the threshold of the door, play bowing to coax us outside to play with her.  She loves to be chased.
The Japanese Maple……more pix to come later today!!!!  I need to get bundled up …there are too many great pix to be had!!  Diana you are laughing at me aren't you…my whole family in Minnesota is laughing because I hear it's 20 below zero today there.  Brrrrrrrrrr!  My 32 degrees above zero is enuf!
JUST CAUGHT ANOTHER THE HUMMINGBIRD..THIS IS CALLED "SNOW ANGEL"